Flowers for Hops
or Back to Roots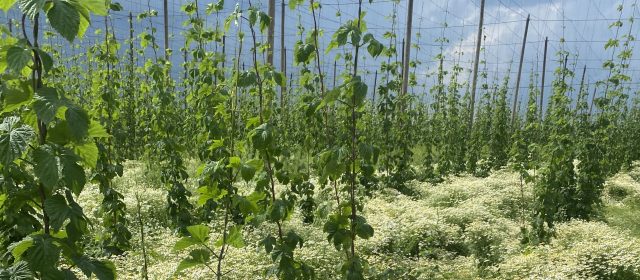 Hop plants are not the only ones that need to grow on hop farms. In our grandparents times, hop farms also included flowers and other plants. And it made sense. Flowers prevent erosion of the soil, return much needed nutrients to the soil, and create a system of roots that preserve water in the soil. This way, they improve conditions for hop plants. That is why we are bringing plants back to where they naturally belong. Intercropping directly in hop farms.
Flowers for better soil
Flowers for Hops is a joint incentive of Plzeňský Prazdroj, the hop growing group Arix Czech Hop, the Czech University of Agriculture and the Postoloprty Laboratory. It is linked to the FOR HOPS project that has been running since 2021 and focuses on efficient irrigation of hop farms and saving of precious water resources. Flowers for Hops represents a return to traditional principles of regenerative agriculture that will lead to the improvement of soil quality, and thus to the preservation of quality and yield of Czech hops – an essential ingredient not only for Czech beer, but also for brewing beer all around the world.
We grow plants between the hops
We planted diverse types of flowers, grasses and other perennial plants between rows with hop plants on ten different hop farms in the Saaz region. In parts of regenerative hop fields, we used a mix of grass, clover and sainfoin, which is a perennial and has strong roots going as deep as two metres. Some of these fields will also become pasture for sheep.
We planted meadow flowers and chamomile in other places. We harvested the chamomile plants and brewed them in a chamomile beer. We offered the beer to visitors at the event Pivo na Náplavce held in Prague to raise awareness of our project Flowers for Hops.
We have abandoned agricultural procedures followed in recent decades, where soil is ploughed in autumn and all the nutrients freeze and must later be added artificially in spring. We are returning nutrients to the soil in a natural way.
The biggest beer glass made of flowers
We have planted flowers on hop farms in the shape of the biggest beer glass which was entered in the Czech Book of Records. A mixture of chamomile and mustard has created a combination of colours reminiscent of draught beer in a glass. These plants also help the soil and improve the condition of hop plants.
Five principles of regenerative agriculture
Permanent soil cover. It is necessary to plant other crops or catch crops immediately after the harvest of the main crop. The soil should not be left bare, and if there is no time to plant catch crops, harvest residues should be left there to cover and protect the soil.

Minimum soil erosion. Ideally, no deep ploughing or planting of catch crops or harvest residues into the soil. Direct sowing is the preferred method.

Increased diversity of plants on one field. This includes regular changing of various crops on one field as part of a multi-year sowing plan, as well as diversity of catch crop mixes.

Living roots left in the soil for a long time. We sow perennial or catch plants in the soil. These are cut and are then able to sprout again.

Integration of animal husbandry. This may include the use of farm-produced manure, if available. We placed a flock of sheep on a selected 2.5-hectare hop farm during the summer of 2023. The sheep will graze plants between rows, thus the cover does not need to be mulched. At the same time, the sheep provide manure for the soil in a natural way.
We do it for hops
Our goal is to use the research and find practical ways in which regenerative farming can help hop growers and hop plants, which is why we are trying different approaches on the ten participating hop farms – various types of plants between rows or a varying share of individual principles of regenerative agriculture. Comparing these hop farms, as well as with hop farms run in conventional ways, will help us find the most effective and most easily applicable procedures across the wide community of hop growers.
We will help the soil. By never leaving it bare – we will plant it with a varied mix of plants, eroding it to the smallest possible extent, and we will bring animals to the land. The care for soil will contribute to the quality and the yield of hops. And this will bring benefits to Czech farmers and of course Czech beer!