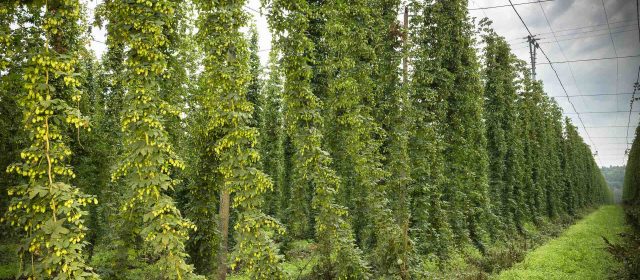 We help preserve their quality and yield, we help hops cope with adverse weather and climate changes.
Without hops, beer would taste differently to what we now are used to. Together with water and barley, hops are an essential ingredient which we need to take care of so that millions of people in Czechia and around the world can enjoy Czech beer.
Climate changes, and especially droughts in recent years, are ever worse enemies of hops. That is why companies from all around the world have joined to help Czech hop growers start irrigating with the help of state-of-the-art technologies.
Czech hops = green gold
The Czech Republic is one of the world leaders in hops productions with a tradition of more than a thousand years. Almost 6,000 tonnes of hops are grown on 5,000 hectares every year here. 80% of this volume is represented by the most famous variety of hops – Saaz semi-early red bine hops (Žatecký poloraný červeňák) – with their light aroma and unmistakable taste, typical, for instance, for pilsner lager.
Climate changes and hops do not go together
Hops, more than other crops, are dependent on sufficient moisture. If they have enough water, they can grow up to seven meters in two months. And their yield is then rich and high-quality. If there is not enough water, the plant will languish.
In the past ten years, hops production has been very volatile, namely due to unstable weather and not enough water. An example is the year 2012, when Czech hop gardens produced only 4.3 thousand tons of harvest, while four years later over 7.7 thousand tons. Thus, a difference of 44%, while the area of hop gardens changed by only 8.5%. On the contrary, the yield in 2022 was the worst in the past ten years. For the world-famous Saaz semi-early red bine hops, the yield was actually the worst since 1964.  Year-on-year fluctuations have exceeded one thousand tonnes, which is almost a fifth of production.
Hop growers in the Saaz region (Žatecko), which is the most important region in Czechia from the hop growing perspective, are especially vulnerable. The majority of their hop yards is part of a quite small microclimate, where the nearby Ore Mountains (Krušné hory) create a rain shadow. Because of this, the annual precipitation total in the area is only about 450 millimetres. Meanwhile, the nation-wide average is between 600 to 750 millimetres.
There is no beer without hops
Brewing beer without hops is possible, but the beer does not taste good. It lacks the typical bitter taste and beautiful smell which have made Czech beer famous around the world.
They once tried to brew a hop-free beer in Plzeňský Prazdroj and let people taste it. Their reactions say it all. Hops are simply essential for beer.
The world for Czech hops
That is why companies and experts from all around the world have come together to help preserve the quality and amount of grown hops. The project called "FOR HOPS" was created and is run by Plzeňský Prazdroj, its mother company Asahi, and Microsoft. Other partners in the project include the Hop Research Institute, Hop Growers Union, experts from the Czech University of Agriculture, and Agritecture.
During November 2021, we planted the first six hop yards in the Saaz region with weather stations and soil sensors. We gradually added time-lapse cameras and placed so-called hop ECG sensors directly on hop plants. These provide unique information about what the plants need and how they develop depending on the weather. The first harvest is over and proved that obstacles related to climate changes are not disappearing. Based on the results of the data analysis, a pilot application is being made which will – to certain extent – be able to predict the climate, the condition of the soil and the impact on the plants. It will be made available to hop growers during 2023. Soil sensors and weather stations remained on hop yards during winter, we will add the hop ECG in spring and continue collecting data and monitoring climate conditions in the soil and air.
This smart way will show us when the plants need water. This way, hop growers will be able to manage water, of which there is often a short supply, more efficiently and ensure sustainable growth of the precious resource in the future.
The future in hop yards
We will launch the first version of an application for hop growers during May 2023. We will test it, improve and feed it with more data in six participating pilot farms because measurements are still ongoing in these hop yards. All of this to make the application scalable across the entire hop growing community in the future.
Thanks to our long-term measurements, we have created a software database in which, alongside historical data and the results of last year´s analyses, we collect all the other data, for example, from satellite images. Now, we will work on designing predictive models which should show farmers in as great detail as possible what happens to plants throughout the season, how they respond to current ambient conditions, and when and how much they should irrigate to be as efficient as possible.